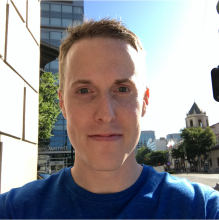 My name is Matt Eaton and welcome to the Agnostic Development blog.  I started this blog as an outlet to discuss interesting development topics that I run into throughout my career in software development.  Along the way, I have found myself wanting to write more and more about research topics that I am passionate about; such as network software engineering, network security, and advancements in TLS, TCP, QUIC, HTTP, and cryptography.  So this blog will contain a mixture of networking and development topics that I have found interesting to covering while conducting my research.
Currently, I am a mobile team lead at LexTech Global Services, in Chicago, IL overseeing enterprise level projects with an emphasis on implementing mobile solutions on a long term road map.  The majority of my days are spent working with my team or coding in Swift or Java.  Previous to working at Lextech I was a team lead at Trekk, in Rockford, IL.  At Trekk I was in charge of the implementation and the management of all iOS and the majority of the web projects that were implemented.   When I am not at work I also enjoy coding, writing, and researching in my free time. The Chicagoland area has a lot of excellent meetups and I enjoy attending mobile, C/C++, and network engineering meetups throughout area when possible. I also try to contribute to open source as much as possible with recent contributions to OpenSSL, Libpcap, and TCPDump.  Researching new developments in mobile and in wireless communication is one of my favorite topics.  I am always looking to learn more about mobile device connectivity and the networks they run on.
What really excites me about coding and development is the engineering and the educational aspect that is involved with developing something from the ground up.  When you create a project from scratch you are essential given a blank canvas and it is up to you to use your creativity to engineer a project from the start all the way to till the finish.  That is very appealing to me because these are your own ideas and your own planning being used to solve a real world problems.   The other appealing side of development is the educational side that comes with building something from nothing.  Every time you build a new project you learn something new, even if it is not necessarily about coding or development, you will learn something new about your customer or the product you are building.  Given the chance to build something from scratch gives software developers a day in and day out chance to expand their knowledge and best practices for their craft.  For this reason alone it makes me really passionate about the work I do.