The landscape of mobile connectivity has become highly complex over the last 10 years. Our modern society has been built around the need to always be up and connected.  And in most cases mobile connectivity works very seamlessly when driving, flying, transferring between cell towers, or even just going on a run - you stay connected. 10 year ago this type of connectivity was not that seamless, cellular voice transmission worked well, but cellular data transmission, and GPS coordination were often a challenge.  So what has changed and what have been some of the major innovations that have affected the landscape of wireless connectivity over the 10 years? Well, that is why I wanted to write this article, to explain why I feel cellular networks, wireless LANs, and mobility hardware have played key roles in the rise of mobile connectivity and what that landscape looks like today.
Cellular Networks 📡
Diving right in, I feel that one of the most important pieces in the rise of mobile connectivity is the cellular network improvements that our society has realized over the last 10 years.  With the rise of cellular demand for 4G there also has been a demand to increase the infrastructure and network speeds that these cellular clients run on. So how are cellular companies doing this?  The most important way is by increasing the network coverage area. To make sure that high volume areas are covered by multiple cell towers that both support the coverage zone and balance the amount of traffic being used in this zone.  Take for example a stadium or in an airport where there are likely hundreds or thousands of the cellular clients in one place, there is enough cellular infrastructure positioned in such a way to handle the heavy loads and to overcome the physical obstacles of serving these cellular clients.  
As an example of expanding coverage areas, take a look at the image below of a coverage map from Verizon Wireless' as of the day this article written.  Notice the densely covered red regions in the map. These regions represent 4G infrastructure for voice and data. Now look at the map below. This map is a coverage map from 10 years ago via the Wayback Machine of Verizon's 3G coverage area for voice and text only.  Look at how much more densely populated the current map compared to the one from 10 years ago. This infrastructure improvement has played key role in the landscape of mobile connectivity.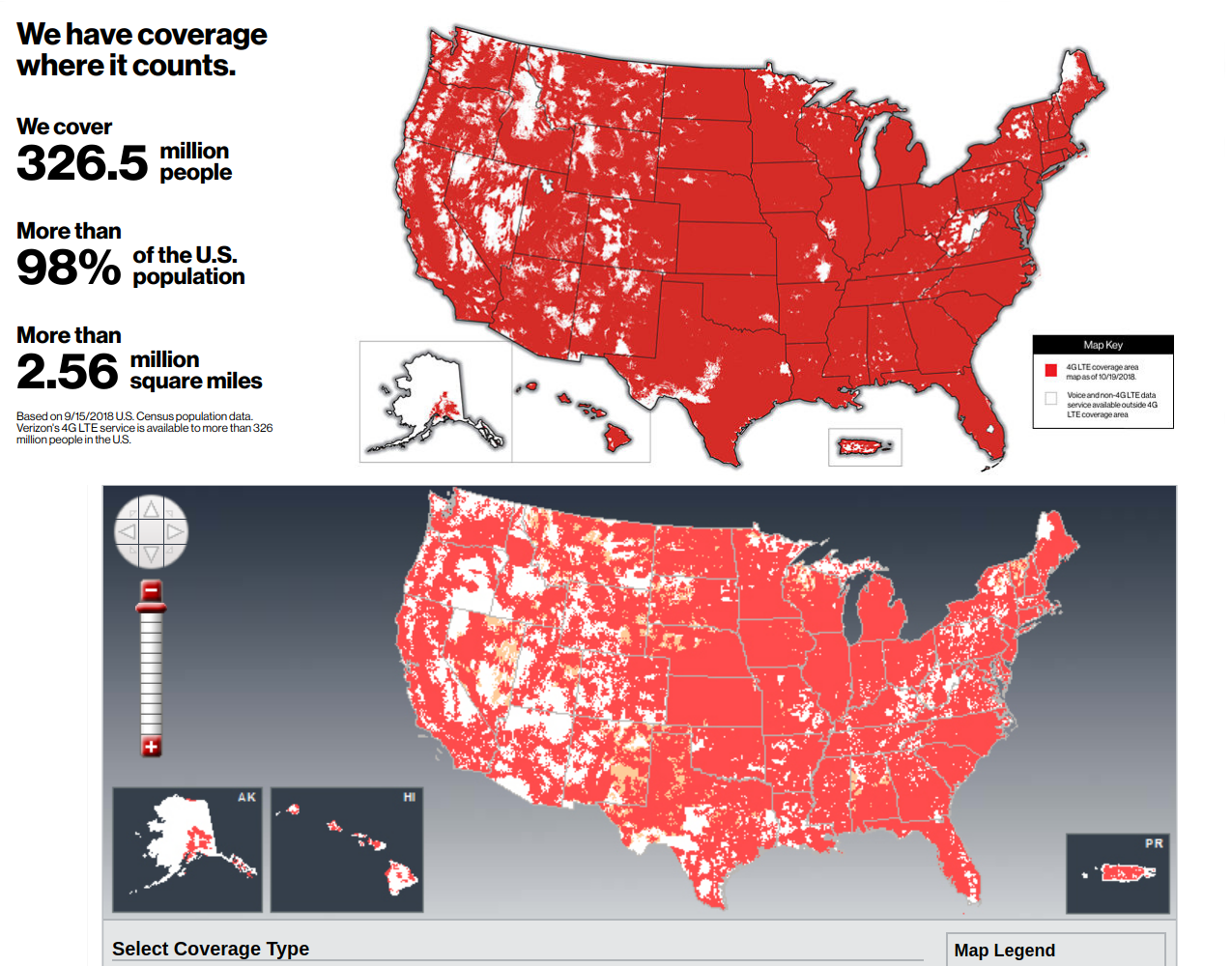 Lastly, mobile clients have adopted new technologies like Wi-Fi Assist and Wi-Fi Calling to help place calls or access data in places where cellular signals are at the weakest.  iOS and Android will always default to WiFi for their data needs, and if the cellular link is very weak then this transfer to a Wireless LAN is important because it allows for a second level of coverage when a cellular infrastructure cannot be accessed.  This is an important collaboration between the mobile hardware manufactures and the wireless carriers that I know I have taken advantage of many times.
Wireless LANs 📻
When you think about the mobile connectivity puzzle, cellular networks can connect you over a wide area network, but Wireless LANs are providing the frontline support for mobile connectivity in a business, home, or public network.  And it's in this LAN frontline that major advancements have taken place to improve the mobility connectivity story compared to 10 years ago. The first advancement that comes to mind is the major advancement in wireless transmission of the 802.11 protocol alone, and the hardware that runs it.  10 years ago, it was common to purchase a wireless router or access point that only used 802.11g/b and worked in the 2.4GHz band only. Allowing the maximum throughput of 54 Mbps for a local area network (LAN). Today, major advancements in the 802.11 protocol are now available, and access points, like the one shown below from Cisco Meraki are a great example of the hardware utilizing these advancements.  The Meraki MR53 can be purchased transmitting 802.11ac in the 5 GHz band or 801.11 b/g/n in 2.4 GHz band with 802.11ac being able to handle throughput of up to 2.5 Gbps. 10 years ago it was not common to get a dual band router or access point, let alone one that could handle a throughput of 2.5 Gbps. These advancements in Wireless LANs mean that coverage while in the office or at home is strong all the way up to the point in which you hand off to the cell tower.

Transitioning into mobile hardware, it is worth noting that most Wireless LAN devices now also support MIMO, or multiple input/multiple output of radio transmissions.  This means that devices like the Meraki MR53 above have dual device radios to support the concurrent transmission for multiple users. Wi-Fi with MIMO is also a feature that most mobile devices, like the iPhone X, iPhone 7, and the Nokia 8 also support.
Mobility Hardware 📱
It probably goes without saying, but mobile hardware today has grown leaps and bounds over what it was 10 years ago.  When thinking about the last piece to the mobile connectivity puzzle, the mobile hardware is the essential part that needs to perform the seamless connection between either a Wireless LAN or a Cellular Network.  So, what does the mobile hardware look like today that supports this seamless connection? That is what I wanted to take a look at in this last section and I think the answer will be revealed right away when examining the capability in the CPU and antennas for both iPhone and Android.
Let's start with CPU.  The CPU's are important because they provide the horsepower to process and make intelligent decisions about how to hand off a network connection.  A shining example of this is the computation that is performed to determine when is the best time is to hand off from a Wireless LAN to a Cellular network, or vice versa.  A second example of this providing the compute power to perform tasks like Wi-Fi calling and Wi-Fi assist that can act as fail-overs for the lack of cellular connectivity.
Let's take a look at 2 different phones, the first is a Nokia 8 and the second is a iPhone X.  Right away you should notice that the CPU speed.  The following CPU's are most likely faster than the CPU's that were in your first desktop computer you had at home. This enables mobile devices to make these connectivity decisions a lot faster than previously available 10 years ago.
iPhone X CPU: Apple A10 Fusion, Quad-core (2× Hurricane + 2× Zephyr) CPU clock rate: to 2.34 GHz
Nokia 8 CPU: Qualcomm® Snapdragon™ 835 Mobile Platform, Octa core, (4 x 2.5GHz Qualcomm® Kryo™ CPU + 4 x 1.8GHz Kryo™)
Next let's take a look at the device antennas that provide this seamless connectivity between a wireless LAN and a cellular network.  Nokia and Apple both support both support 802.11 ac with MIMO and Bluetooth 5.0 built right into the antenna. This supports both the connection with Meraki's high speed access point (MR 53) above and to local IoT devices concurrently.  Next, let's look at LTE, both of the cellular antennas support multiple bands of LTE, but Apple does not post any specs on the speeds as Nokia can support 450Mbps DL/50Mbps UL. This is the key part in the last piece of the connectivity story.  These antenna's 10 years ago was not even available for consumer devices, or smartphones. 10 years ago, the majority of LAN devices did not even provide this type of hardware.
iPhone X Antennas: (WiFi Antenna) 802.11ac Wi‑Fi with MIMO / Bluetooth 5.0 wireless technology / NFC with reader mode , (Cellular Antenna) Multiple LTE bands, no speed specs.
Nokia 8 Antennas: (WiFi Antenna) 802.11 a/b/g/n/ac (MIMO), BT 5.0, GPS/AGPS+GLONASS+BDS, NFC (sharing) ANT+, (Cellular Antenna) LTE Cat. 9, 3CA, 450Mbps DL/50Mbps UL
In Summary ⌛️
In summary, the landscape of mobile connectivity is very complex, but most importantly, all of that complexity is transparent to the end user.  In most cases, connectivity is just available, no matter where you are, from any device. This seamless connectivity drives the demand for cellular and IoT usage.  Over the next 10 year I am excited to see how this ecosystem evolves and what companies like Cisco Meraki, Apple, and Nokia do to push the envelope on mobile connectivity and mobile hardware.
References 📘