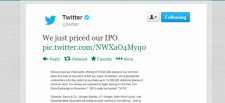 With the third largest tech IPO in history this week, Twitter hits the New York Stock Exchange under the symbol, TWTR, and has many people now taking a hard look at the companies past financial history.
 
Catching up on the weekly news today has me running into all sorts of blog posts and opinions about Twitter's IPO that hit the market on Thursday. One thing that I really found interesting was the fact that Twitter has been steadily bleeding cash for the last couple of years. According to CBS news, Twitter lost $67 million in 2010, $164 million in 2011, and $79 million in 2012 while the revenue on a per user basis for the company slows, as does the rate at which the platform is adding users. While this sounds like a recipe for long term disaster, the rate at which the company is bringing in revenue is increasing, which is probably a reason for the initial offering at $26.
 
At any rate it will be interesting to see how the stock trades in the coming months after it closing down the week at $41.65 a share. I hope things go well for Twitter, as I never like to see tech companies falter. Especially companies with Drupal integration under their hood!